Mirror of Eternal Feminine Virtue
(Teiso chiyo no kagami, 貞操チ代の鑑)
Publisher: Koga-ya Katsugorô
c. 1843
In this series of prints full-length portraits of beautiful women (bijin) are likened to Confucius's five cardinal virtues (gojô).  The characters for these virtues are written in a cartouche above with an accompanying text.  The series is listed as number 61 in Kuniyoshi by Basil William Robinson (Victoria and Albert Museum, London, 1961).  The prints in this series are each about 14 by 10 inches (36 by 25 centimeters), a size known as ôban.
<![if !vml]><![endif]>

Virtue: Benevolence (jin)

Description: Standing woman and child holding the lid of a barrel. They are looking at two animals suspended from ropes

Schaap: 6.1

<![if !vml]><![endif]>

Virtue: Loyalty or justice (gi, 義)

Description: A woman standing next to a table and holding a fan (uchiwa) in her right hand

Schaap: 6.2

<![if !vml]><![endif]>

Virtue: Courtesy or decorum (rei, 禮)

Description: A woman bowing with both hands on her knees

Schaap: 6.3

<![if !vml]><![endif]>

Virtue: Wisdom (chi)

Description: A seated woman sewing with a child next to her holding a measuring

stick

Schaap: 6.4

<![if !vml]><![endif]>

Virtue: Good faith (shin, 仁)

Description: A slightly bent woman behind a pole reaching out with her right hand while holding a piece of her kimono in her mouth.  Above various inscribed shop curtains (noren)

Schaap: 6.5
"Schaap" refers to listing in Heroes and Ghosts: Japanese Prints by Kuniyoshi by Robert Schaap (Hotei Publishing, Leiden, 1998).
CLICK HERE TO RETURN TO MAIN PAGE
<![if !vml]>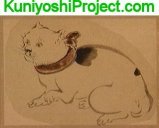 <![endif]>