<![if !vml]>
<![endif]>
Actors: Nakamura Utaemon IV as Ume no Yoshibei (由兵衛, left), Iwai Kumesabur˘ III as detsuchi Chokichi (でつち長吉, center), and Seki Sanjűr˘ III as Genbei Horino Genbei (源兵衛, right)
Play: 褄重梅由兵衛 (...Yoshibei)
Date: 1st month of 1848
Theater: Nakamura
Publisher: Yamamoto-ya Heikichi
<![if !vml]>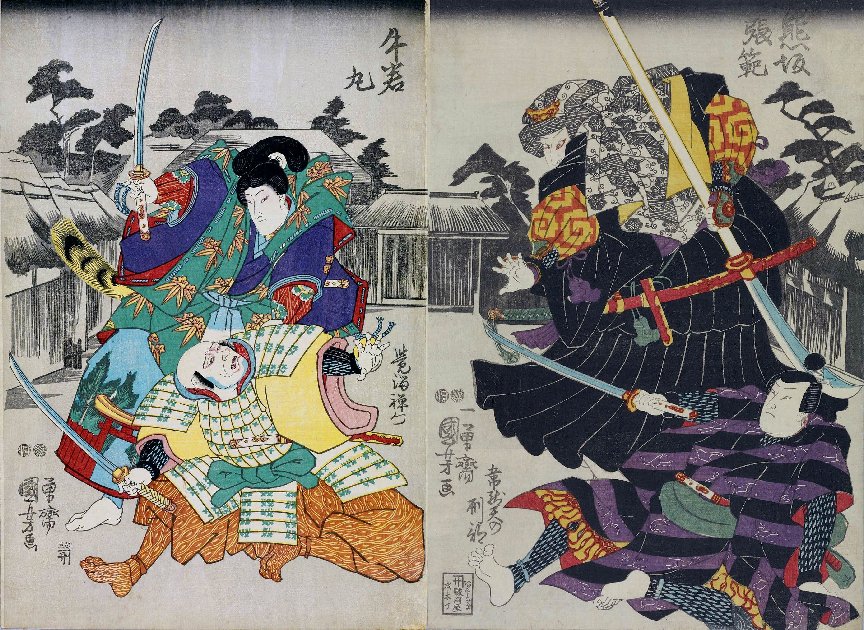 <![endif]>
Actors: Nakamura Utaemon IV as Ume-no-Yoshibe (梅のよし兵衛, left), Iwai Kumesabűr˘ III as the apprentice Chokichi (てつち長吉, center), and an unidentified actor as Yoshibeiĺs wife Ku-ome (女房小梅, right)
Play: 褄重梅由兵衛 (...Yoshibei)
Date: 1st month of 1848
Theater: Nakamura
Publisher: Murata-ya Ichibei
<![if !vml]>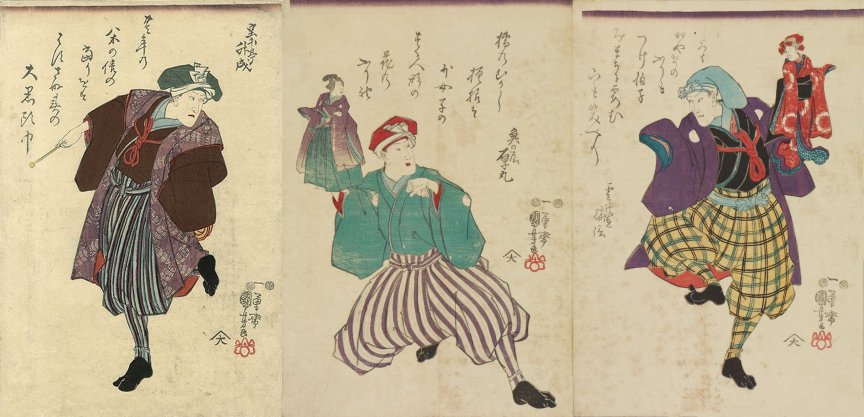 <![endif]>
Another greatly simplified state of the above triptych
<![if !vml]>
<![endif]>
Actors: Left sheet: Ichikawa Kodanji IV as Soga Gor˘ (曽我五郎時宗) and Ichikawa Danjűr˘ VIII as Soga Sukenari (曽我十郎祐成)
Center sheet: Ichimura Uzaemon XII as Kudo Saemon (工藤左衛門祐経)
Right sheet: Band˘ Shuka I as the courtesan Oiso no Tora (大磯ノとら) and Band˘ Mitsugor˘ IV as Omi Kotota (近江小藤太成家)
Play: Hatsuharu... (初春の御寿そが)
Date: 1st month of 1848
Theater: Ichimura
Publisher: Ebi-ya Rinnosuke
<![if !vml]>
<![endif]>
Actors: Left sheet: Ichikawa Kodanji IV as Soga Gor˘ (曽我五郎時宗) and Ichikawa Danjűr˘ VIII as Soga Sukenari (曽我十郎祐成)
Right sheet: Ichimura Uzaemon XII as Kudo Saemon (工藤祐経) and Band˘ Shuka I as 大磯の虎
Play: Hatsuharu... (初春の御寿そが)
Date: 1st month of 1848
Theater: Ichimura
Publisher: J˘shű-ya Kinz˘
<![if !vml]>
<![endif]>
Title of triptych: Tsurigitsune wana no kangiku (Trapping the White Fox)
Actors: Left sheet: Matsumoto Kinsho I as Soga no Gor˘ (五郎時宗, foreground) and unidentified actor as Soga Jűr˘ Sukinari (小林屋鶴吉)
Center sheet: Sawamura Sojűr˘ V as Kud˘ Saemon Suketsune (工藤祐経)
Right sheet: Onoe Baiko IV as Asahidayű (あさひ太夫)
Play: Kagami gaike omokage Soga (吉例曽我訥子玉)
Date: 1st month of 1848
Theater:
Publisher: Iba-ya Sensabur˘
<![if !vml]>
<![endif]>
Actors: Ichimura Uzaemon XII as Komatsuya S˘shichi (小松屋宗七, left), Ichikawa Danjűr˘ VIII as Kezoni Kuemon (毛剃九右衛門, center), and Band˘ Shuka I as the courtesan Hakata Kojor˘ (博多 小女郎, right)
Play: Mimasu Dokko Hakata no Uchikake (三升独鈷博多[?])
Date: 1st month of 1848
Theater: Ichimura
Publisher: J˘shű-ya Kinz˘
NOTE: Due to a printing error, the top bolt of cloth in the pile is blue in the right-hand sheet, but white in the center sheet.
<![if !vml]>
<![endif]>
Actors: Left sheet: Iwai Kumesabur˘ III as onzoshi Ushiwakamaru (牛若丸, standing) and Nakamura Kanemon I in unidentified role
Right sheet: Nakamura Utaemon IV as 熊坂張範 and unidentified actor of the Nakamura line (中村 鷺助 I) as 韋駄天の刑部
Play: Tsuki no ume megumi no Kagekiyo (月梅摂景清)
Date: 1st month of 1848
Theater: Nakamura
Publisher: Suruga-ya Sukujir˘
<![if !vml]>
<![endif]>
Actors: Nakamura Utaemon IV as the bandit monk Kumasaka Ch˘han (left), Ichikawa Kuz˘ II as Kichiji (center), and Ichikawa Kodanji IV as Ushiwakamaru (right)
Play: Tsuki no ume megumi no Kagekiyo (月梅摂景清)
Date: 1st month of 1848
Theater: Nakamura
Publisher: Ebi-ya Rinnosuke
<![if !vml]>
<![endif]>
Actors: Left sheet: Onoe Shinshichi III as 松番匠新七郎 実ハ天野四郎常長 (standing) and Ichikawa Kuz˘ II as 室の津肝煎佐次太夫
Right sheet: Nakamura Utaemon IV as the blind Aku Shichibei Kagekiyo (悪 七兵衛 景清) 後ニ日向勾当 and Onoe Kikujir˘ II as Kagekiyoĺs daughter Hitomaru (景清 娘 人丸)
Play: Tsuki no ume megumi no Kagekiyo (月梅摂景清)
Date: 1st month of 1848
Theater: Nakamura
Publisher: Iba-ya Sensabur˘
<![if !vml]>
<![endif]>
Title: The Six Poetic Immortals (Rokkasen, 六歌仙)
Actors: Ichikawa Kodanji IV as the monk Kisen (喜撰法師), Nakamura Utaemon IV as S˘j˘ Henj˘ (僧正遍正), Band˘ Mitsugor˘ IV as ďtomo Kuronushi (大伴黒主), Band˘ Shűka I as Ono no Komachi (小野小町), Ichikawa Danjűr˘ VIII as Arihara Narihira (在原業平), and Ichimura Uzaemon XII as Fumiya Yasuhide (文屋康秀)
Play: Yanagi... (柳糸遊所操)
Theater: Ichimura
Date: 1st month of 1848 (censors Hama and Kinugasa)
Publisher: Minato-ya Kohei
<![if !vml]>
<![endif]>
Actors: Nakamura Utaemon IV in unknown role
Play:
Date: 1st month of 1848
Theater:
Publisher: Chű (phonetic reading of 忠)